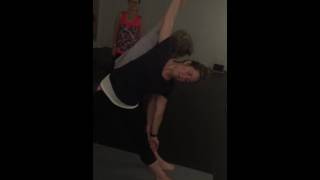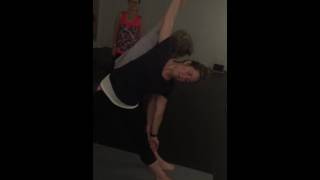 Here I am with my dear Assistant Director of Yoga Mountain Inc., Abigail Hammond, doing partner triangle last Wednesday in class. With her beside us the company is blooming.
The psychiatric center and the jail
All day Monday as i was teaching I thought of the woman who gave me my yoga teacher certification, Tao Porchon-Lynch. How would she, with all her gaiety and gladness, go through these soul-wrenching minutes and hours?
No pics of inmates are possible; but we see their lives taking fresh turns with each visit; we go every Monday, and teach 20 to 30 men and women. No group we've ever worked with has appeared more respectful and hungry for yoga knowledge. Many have signed on to our Prison teacher certification program.